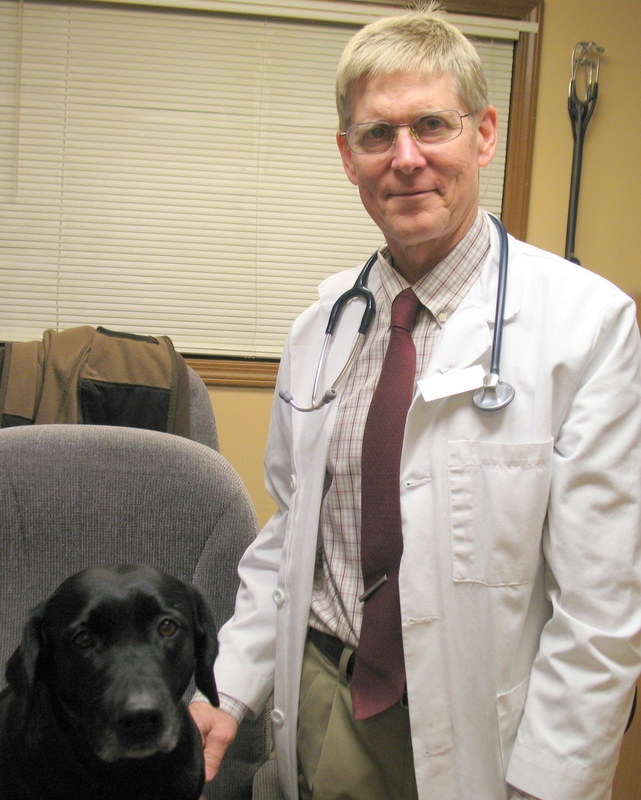 Dr. William Motley attended the University of Missouri-Columbia receiving a BS in Animal Science in 1976 and a DVM degree in 1980. He practiced in Kirksville, MO (large and small animals) and in the state of Washington. He returned to Columbia in 1983 and founded All Creatures Animal Hospital. Dr. Motley holds additional training and certification in veterinary acupuncture as well. His family includes his wife and stepson, dog Jo, as well as several horses, mules and cows.

As of January 2019, Dr. Motley has begun a well-deserved retirement and will no longer be seeing appointments. We appreciate his years of service and the legacy he has created.
Dr. Christy Fischer (previously McPherson) grew up in southern California before moving to Missouri. She attended Williams Woods University on a soccer schloarship and graduated from veterinary school at Mizzou in 2009. Dr. Fischer enjoys running, playing sports and being outside. She lives in Columbia with her husband and son. Her pets include Hank the lab and Captain the cat.

Dr. Meghan Ritzo grew up in Virginia Beach, VA. She graduated from the College of William & Mary with a BS in Biology and a minor in Dance in 2009. She moved to Missouri to attend veterinary school and graduated from Mizzou in 2013. She spent one year in Brooklyn, NY completing an internship at Veterinary Emergency and Referral Group. She lives in Columbia with her husband, two daughters and two cats, Ninja and Winston.

Dr. Heidi Miller grew up in Silex, Mo. She attended the University of Missouri-Columbia receiving a BS in Animal Science and later her DVM at the college of Veterinary Medicine in 2016. She spent a year in Las Vegas at a high volume emergency based clinic before returning back to Missouri to practice with us. Professional interests include surgery and dentistry. She lives in Fayette with her two dogs, Cooper and Jax, and her two cats, Walker and Texas Ranger.
Amanda Martin is our registered veterinary technician. Amanda completed her BS in Agriculture at Murray State University in 2010. She began work at ACAH in June 2010. She completed her RVT licensing in June 2012. Amanda enjoys reading and mountain biking and camping with her husband. Her home includes two Great Danes, George and Vincent, and two cats, Poof Skittles and Viper Lily.